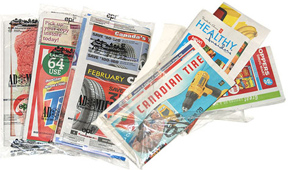 Flyer Distribution
Do you have an upcoming sale, promotion or product launch that is critical and / or time sensitive?

Our flyer delivery service is part of our unmatched adult carrier, GPS tracked door to door distribution system.

We offer custom distribution options to fit your direct marketing needs! Effectively target commercial, retail, industrial and residential markets, without duplication, within Toronto, the GTA and surrounding areas. For only a few cents per piece, you can have your message delivered directly to your customers door. Make sure your customer gets the message!

Contact Us for a free quote today!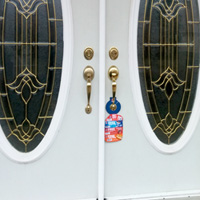 Doorhanger Distribution
Doorhangers can come in many different forms such as printed cards, loot bags, or sample bags. These all have great advertising potential! In addition to being the first piece of advertising a consumer sees upon arriving home, they allow the advertiser to target a specific audience. They are perfect for announcing a new business or special promotion in your area.

Some common printed door hanger sizes include 4.25" x 11" and 3.5" x 8.5", but other sizes can be created as well. Typically, 110# or heavier coated card stock is used. Our in-house graphic design department can help you produce custom door hanger cards to fit your needs.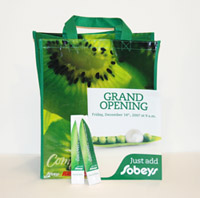 Product Sample and Bag Distribution
Once your product is packaged, it needs to get to the consumers door. Attract new customers with highly visible sample bags, placed directly at the consumers door, or hung on the door or mailbox.

Sample bags can also be manually assembled using our Pick & Pack service when automated options are not possible, or are too expensive.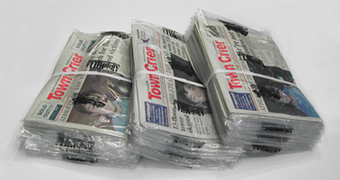 Newspaper & Catalogue Distribution
Including: virtually all types of Magazines, Brochures and Books (subject to our size specifications and restrictions). Newspapers are delivered to the consumers door in a sealed polybag, the AdMill Bag, where they are kept clean and protected from the elements. Depending on what our clients request, catalogues may be inserted along with newspapers, or they can be placed directly in the consumers mailbox with no bag.
Weekly AdMill Bag
Major Market Distribution Footprint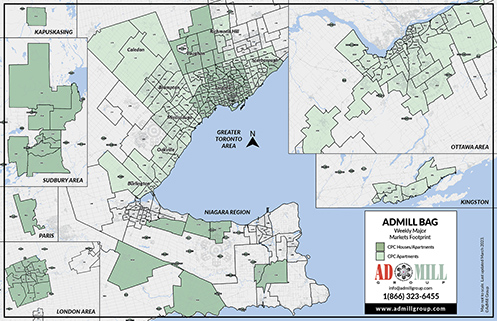 Last updated March, 2023.
---
Complete Layout, Print and Distribution Solutions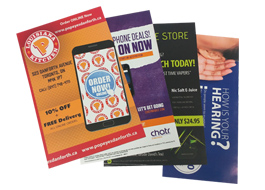 ValueAd & AdMill plus
Capitalizing on the concept of grouping multiple flyers together to form one print run, clients can get their printing done at a fraction of the cost of an individual print run.

Contact an AdMill sales representative to get more information and details on how you can participate.


Distribution Features
Distribution Targeting
We deliver your message to homes in targeted or defined-zoned areas, offering you the potential to reach your selected target to build awareness and stimulate customers to buy, with little waste or duplication.

Distribution can be targeted by:

Full FSA (Forward Sortation Area)
Canada Post Letter Carrier Walks (LC)
AdMill Zones (Specialty Delivery only)
Demographics (Age, Income, Gender, Home Ownership)
Census Tracts (CT)
Dissemination Areas (DA)